Say on Pay Frequency Tracking
The following table tracks the frequency Say on Pay vote recommendations of companies in proxies filed after December 1, 2010 through September 27, 2011 (click on the chart to increase its size):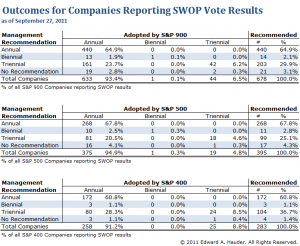 Last Updated: September 27, 2011

Questions? Need Help With Say on Pay Issues?
If you have any questions or would like assistance in thinking through the issues involved with your company's say on pay vote frequency recommendation, please contact Ed Hauder at edward.hauder@exqty.com or (847) 996-3990.